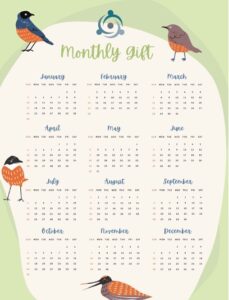 When you give a monthly donation, you sustain the long-term work of the Learning Disabilities Association of Wellington County to provide consistent year-round support for children, youth and their families to benefit from life-changing workshops, innovative programs and speakers.
Did you know? A scheduled monthly gift of $25 over one year provides one child access to a social skills program! Your gift means a child will learn the skills they need to effectively communicate with others in all aspects of their lives. It means giving them the foundation for having positive relationships with others.
A monthly gift of your choice will help children and youth:
Find the greatest opportunities for success
Learn how to advocate for themselves
Discover the executive skills needed to develop their working memory and cognitive flexibility
Learn life-skills and social skills to build friendships with peers and classmates
You'll also provide families with the support they need through resources, family education and parent support groups.
Monthly giving is easy to arrange online or directly with our staff.
Choose a donation amount that fits your budget; you have the flexibility to alter, pause or stop your gift at any time
Sign up for automatic withdrawals from your bank account or charge your monthly donation to your credit card-simply give us a call to set it up and let us know when you would like the withdrawal each month
Set up your monthly gift through e-transfer to ldawcfinancial@gmail.com (Be sure to note Monthly Gift in the message)
A tax receipt will be issued in January for all your donations in the previous year.
For questions or to set up monthly giving, please contact:
Renná Bruce Paonne
Executive Director
519-837-2050
execdir@ldawc.ca
Charitable Business Number: 119010403 RR0001